EUROPAMUNDO FOUNDATION
Aims
The general purposes of the Foundation are conducting social activities and development cooperation in areas and sectors of the population, especially vulnerable throughout the world, and promoting sustainable human development. Also actions that contribute to promote and improve the impact of sustainable and responsible tourism. Likewise, projects aimed at promoting coexistence between different cultures; for a more tolerant and diverse world.
MISSION
The Europamundo (EMF) Foundation's mission is the development of Responsible Tourism to ensure long-term sustainability prioritizing optimal use of environmental resources, respect for sociocultural authenticity of host communities and ensure some viable economic activities in the long term to report to all agents to share the socio- economic benefits that are fairly distributed and contributing to poverty reduction.
As well as social activities and development cooperation in especially vulnerable areas and sectors of the population in any country of the world and the promotion of sustainable human development.
Also contribute to promote coexistence between different cultures and the development of a more diverse and tolerant world.
Why was the foundation born?
The parent company of the Europamundo Foundation, Europa Mundo Vacations decided in 2011, date of its establishment , to donate to the Foundation an amount equivalent to 2 € per passenger, those who use tours of Europa Mundo Vacations around the world, mainly Europe , Middle East, Asia and North America.
The Europamundo Foundation was established with following visions:
To finance or to promote social activities projects of other entities.
To finance or to promote international cooperation projects developed by other entities.
Promotion and encouraging the conditions that can enable the social equality of both the genders and participation of women in political, economic, cultural and social life.
To promote activities and programs those are aimed to encourage the integration of groups at risk or in situations of social exclusion.
To promote and enhance coexistence through activities, programs, projects among different cultures to create a more diverse and tolerant world.
Research and publications.
To participate in networks and activities of other entities that share objectivos of the Foundation.
To encourage research, seminars, training processes, and any action that promote sustainable and responsible tourism.
And since then it has financed 104 projects and financially supported more than 20 emergency situations worldwide, mainly of ACNUR and AcH.
Advantages that the Foundation Europamundo has:
Relationship with stakeholders and networking:

Clients
Suppliers
Partners
Staff :

Improving the working environment
More compromise to company employees
Personal and professional development of employees

NGO
University
Public Agency

Corporate image and reputation
Social and environmental dimension
Visibility
Higher value of the company in the long-term
Transparency
Promoting sustainability
Reduction of negative impact
Corporate Social Responsibility (CSR)
TAX: Deduction of 35% of corporate tax
STRATEGIC LINES:
PROJECT FINANCING
RELATIONSHIP WITH STAKEHOLDER GROUPS OR STAKEHOLDERS
VOLUNTEERING
OTHER SOCIAL AND ENVIRONMENTAL ACTIVITIES
1. PROJECT FINANCING
Number of beneficiaries.
During the period 2011 - 2017 with the execution of 104 projects, the total number of beneficiaries whom we have supported is 186.849.
Geographical area of the Foundation´s activity.
The geographical area of activity is:
Latin America: 57,70%, with 46 projects
Asia: 20,82%, with 16 projects
Africa: 8,16%, with 19 projects
Europe: 10,99%, with 21 projects
Middle East: 2.33%, with 2 projects
Also in Spain to develop social and environmental awareness activities with employees of Europamundo Vacations y and its collaborators
2. COMMITMENT RELATIONS AND NETWORKING WITH STAKEHOLDERS PARTNERS IN ST- EP PROGRAM OF WTO
The Europamundo Foundation participates as a member in the ST-EP program (Sustainable Tourism Eliminating Poverty) and its projects of Tourism and Poverty Alleviation since 2012.

step.unwto.org/es/content/socios-st-ep
16 International members of ST- EP program
The WTO ST-EP Foundation
The Netherlands Development Organization (SNV)
The Italian Cooperation
The French Ministry of Foreign Affairs
The Spanish Agency for International Cooperation for Development (AECID)
The Korean International Cooperation Agency (KOICA)
The Government of Macao S.A. R
The Flemish Government
The Government of Thailand
The Government of Cambodia
The Netherland Committee of the International Union for Conservation of Nature (IUCN-NL)
The Swiss Fund grants for Africa
Tsingtao Breweries Ltd. (China)
Travel Foundation
The Banesto Foundation
The Europamundo Foundation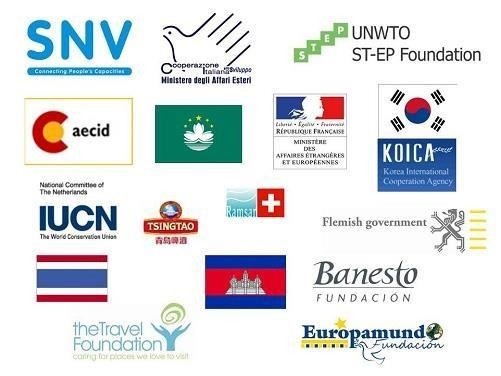 3. VOLUNTEER
CORPORATE VOLUNTEERS TRAINING
A group of 6 associates of Europa Mundo Vacations (EMV) is conducting volunteer training workshops with the program I Deserve a Chance of Randstad Foundation for job search for people over 45 years of age with long term unemployment .
COLLABORATIVE CORPORATE VOLUNTEERS
For more than a year a group of employees of Europa Mundo is volunteering with an NGO, Solidarity for Development, with the Homeless people of Madrid city. In total there has been a participation of around 15 colleagues.
Along the route in Madrid, the group has attended more than 100 people.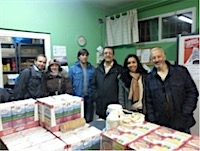 INTERNATIONAL VOLUNTEER.
Mannequin River Expedition. The Europamundo Foundation through its funds of finance of the project is supporting for the third consecutive year Medical Solidarity in its project in Mannequin River in Beni (Bolivia) in the Amazon jungle in the region of the ethnicity of the Tsimanes.
In different villages where health care assistance was given it has served more than1,500 people.
4. OTHER SOCIAL AND ENVIRONMENTAL ACTIVITIES
PHOTOGRAPHIC EXHIBITION OF THE PROJECTS EXECUTED IN 2011 to 2016
The Annual Convention of Europa Mundo Vacations (EMV).
CAPS COLLECTION CAMPAIGN
The Europamundo Foundation manages the collection of plastic bottle caps in the offices of its parent company Europa Mundo Vacations among all the employees and with their sale rare diseases are financed.
Collaboration with NGO Action Against Hunger (AAH) since 2012 to 2016
October the Solidarity Race was held to raise funds for the fight against malnutrition of children under the age of 5.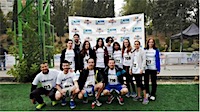 CAMPAIGN TO COLLECT FOOD AND TOYS, since 2013 to 2016
In December Europamundo Foundation conducted a campaign to collect food, toys and clothing for children and women in which 90 employees have participated.
SOLIDARITY MARKET, since 2013 to 2015
In the month of December Europamundo Foundation organized solidarity market in the offices of Europa Mundo Vacations where four NGOs.
SOCIAL AND ENVIRONMENTAL AWARENESS WEEK OF EUROPAMUNDO FOUNDATION
The Europamundo Foundation organizes in November, for the employees of Europa Mundo Vacations, a training day in order to raise awareness on environmental issues.
HEALTH WEEK.
Health and prevention week activity created to raise awareness and promote a healthy lifestyle through workshops, dynamic and conferences such as "Stop Smoking", "Food to prevent Cancer , "First Aid".
A) FIRST AID WORKSHOPS
In december two workshops on First Aid were carried out in the offices of Europa Mundo Vacation with the collaboration of Civil Protection - Samur.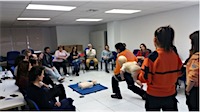 B) SPANISH ASSOCIATION OF CANCER
On 30th November a conference of Spanish Association Against Cancer on "Food for cancer prevention" was held in which employees of Europa Mundo Vacations participated.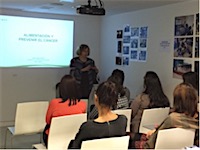 C) BLOOD DONATION.
During the month of December a blood donation program.The blood collection was done by the street team of the Spanish Red Cross.
CO-SPONSORSHIP OF THE FILM
The Europamundo Foundation and Europa Mundo Vacations have co-sponsored, along with Save the Children, Unicef and Atresmedia the film by Pascal Plisson "The Big Day " and "Back to School" that premiered in January in 2015 and 2016.
CONFERENCES HELD:
For the last 3 years, on the third Tuesday of the month, the Europamundo Foundation has been holding "Thematic Tuesdays" during the parent company, Europamundo´s off-season. Europamundo invites to "Thematic Tuesdays" an NGO which has collaborated with in the financing of some of its projects. The NGO presents its projects, organization, present and its future. Thematic Tuesdays try to give visibility to vulnerable and socially excluded people such as refugees, victims of gender violence, functional disabilities, homeless people, people over 45 years of age, in addition to dealing with issues of sustainability and environment.
ENVIRONMENTAL PROJECTS
In 2015, the Greenhouse Gas Emissions Reports were launched. Over the course of 4 years, the CO2 emissions generated from the activity of our company, from 2014 to 2017, were offset by the Limay Community Carbon Project. This project is a community-based reforestation initiative where small farmers in Nicaragua reforest parts of their disused land, driven by the NGO, Taking Root. During the 4 years from 2015 to 2018, approximately 60,000 trees were planted and price per ton of compensation was between 7 and 10 €/t.
These compensation projects were 50% financed by Europamundo and the Europamundo Foundation.
In 2019, Europamundo began working with one of the most important environmental companies in Spain, Factor CO2, and that year, 3,937 tons of CO2e emitted in 2018 were compensated through 3 projects:
Wind generation in Tongliao (China). CER (Certified Emission Reduction) accredited under the UNFCCC (United Nations Framework Convention on Climate Change).
Sustainable transport in Mexico. CER (Certified Emission Reduction) accredited under the UNFCCC (United Nations Framework Convention on Climate Change).
Avoided deforestation, Brazil nut plantations in Peru. VCU (Verified Carbon Unit) under the VCS (Verified Carbon Standard) standard. Project Validator: SCS Global Services. The average price per tone was €2.5/tone.
ONE YEAR 12 CAUSES
Europamundo Foundation is developing an initiative throughout the entire year 2016 called "One year, 12 Causes" and every month it wants to develop a cause through videos with information, documents, reports, lectures, debates, etc. .