WHO ARE WE?
Europa Mundo Vacations (EMV) is a JTB Group subsidiary, one of the world's leading tourism corporations, which was founded in Japan more than a century ago and now has more than 150 companies and 900 offices worldwide.
Although Europamundo was originally a family-owned company it has grown at an average of 13.97% per year in the last ten years, making it the market leader in Latin America for European circuits, with circuits in the United States, Canada, Mexico, Costa Rica, India, and Japan, with 1,000 different tours, and 130,000 passengers per year traveling on our circuits from 33 countries on five continents from Latin America, Spain and Portugal markets, and in 2016 countries such as India, Thailand, the Philippines, Malaysia, the United States, Jordan, and Australia have joined.
Its incorporation into the JTB Corporation Group was completed in June 2018, and Europa Mundo Vacations became 100% Travel Plaza Europe, the JTB Corporation Group's European subsidiary.
EMV employs 195 people in its Madrid offices, as well as representatives in Brazil, Argentina, India, Thailand, Peru, Japan, and other major European cities, with an annual average of 412 employees and a 9.5% annual increase in personnel over the last five years, with an average seniority of 7.94 years, the average age of 42 years, and 53% of permanent jobs and 82.8 percent of in-office personnel.
It's worth noting that the company's policy of labor integration for women is reflected in their hierarchical distribution in the organization chart, with 66 percent of middle managers and 58 percent of total employees within the company.
Our company makes all the difference in diversity with 37 nationalities among its professionals from the five continents, ranging in age from 21 to 71 years, of religious beliefs, ethnic origin, sexual orientation, and handicap. Argentina, Brazil, Bulgaria, Chile, China, Colombia, Cuba, India, Denmark, Spain, the United States, Italy, Mexico, Paraguay, Peru, Poland, Dominican Republic, Romania, Russia, and Venezuela are among the 20 nationalities represented in the Madrid office between guides and displaced 35 nationalities, such as Albania, Argentina, Brazil, Belgium, Chile, China, Korea, Colombia, Croatia, Cuba, Egypt, Spain, USA, France, Greece, India, Iran, Italy, Japan, Jordan, Morocco, Mexico, Portugal, United Kingdom, Russia, Serbia, Syria, South Africa, Switzerland, Sweden, Tunisia, Turkey, Ukraine, Uruguay, Venezuela, which gives that approach of diversity and multiculturalism.
With the opening of the Asian continent in 2016, our clientele represents 83 different nationalities, each with its own cultural, linguistic, ethnic, racial, and religious distinctions.
In 1997, a big dream began, which was consolidated over the years with hard work and effort.
For 10 years, Europa Mundo Vacations has been taking significant strides in Corporate Social Responsibility with its Foundation, and the 153 projects executed from 2011 to 2020, benefiting 260,000 people.
Also through its Codes of Ethics, Manual of Good Practices, and the constant monitoring by its Committee, the Conflict Mediation Protocol, the Equality Plan, in addition to environmental management policies with reduction of consumption such as electricity, renewable energy, led lamps in the Madrid office, its energy audit, recycling materials such as paper, toner, batteries, computer equipment, mobile phones, plastics, caps, as well as the calculation of the company's CO2 emissions and their compensation through projects in Spain and Guatemala, have led EMV to obtain the Zero CO2 seal.
Since 2015, a report on CO2 emissions and their compensation has been made with projects that support local economies in developing countries, with Europamundo being carbon neutral since 2015.
Through the Corporate Social Responsibility Department created in May 2016, Europa Mundo sets clear objectives in CSR with a commitment to deliver the greatest potential benefit to its target audiences (stakeholders).
Multiple alliances with our tour operators have allowed us to access all of Latin America, making us the first circuit operator, and the Asian market since 2016.
History, the beginnings.
Europamundo began modestly in May 1997, with a small office/agency in Fernando el Católico, Madrid, resulting from the split of personnel and offices at Mundo Joven, with 10 individuals and two addressing the public and the logo of Grupo Mundo, but in May, Europamundo and its logo were born.
The company continued to expand in 1998, and it relocated to a larger office on Guzmán el Bueno Street in Madrid, and then to the Gran Via offices in 2000.
Since then, the company has expanded since its initial brochure in 1997, Mundo Joven legacy, with the name Grupo Mundo and 21 circuits and 40 pages. In 1998 Europamundo launched its first brochure, which is linked, with 24 circuits and 48 pages, to the 1,000 circuits and 667 current pages of the 2021-2023 catalog, and makes its definitive transfer to the García de Paredes offices in 2011.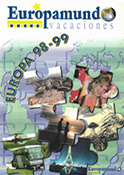 Brochure 1998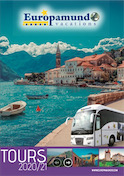 Brochure 2021-23
WHAT ARE WE?
We are a company that does not sell trips but rather EXPERIENCES. In Europamundo we create responsible tourism through which we aim to transmit the importance of appreciating and caring for our surroundings, the lands we live on, the different cultures, different ways to face life, all thanks to the workers that make it possible to provide customers with a great added value, which is a passion for travelling.
OUR MISSION
Our mission is to create experiences in our customers to allow them to see different cultures through flexible circuits with possible value for money.
OUR VISION
To continue to be a leading innovative company in the tourist sector, aimed at the customers and wagering on technology, creativity, security and, above all, responsible and sustainable tourism.
OUR PRINCIPLES
The principles declared in the company are:
a) We are all Europamundo. Therefore each of us is a principal asset of the company.
b) We do our work effectively, responsibly and rapidly, adapting to change.
c) We seek personal satisfaction and that of our customers.
d) Our behaviour and our image must be a reflection of the seriousness and professionalism of the team we form.
And those reflected in our code of ethics:
Respect.
EMV respects the local cultures of each community and country in which it operates and the countries of origin of the passengers, adopting a committed attitude and trying to contribute to the socio-economic development of these places and to the awareness of their cultures.
EMV takes respect for people and their dignity as a fundamental value, and subscribes completely to the declarations and agreements described in the criteria of action, point a).
EMV is committed to sustainability, preserving the environment by adopting procedures to reduce the environmental impact of its activities.
Transparency.
Transparency is a fundamental principle for customers, shareholders, suppliers and generally for society, and creates a climate of confidence in EMV's business activity.
EMV assumes the commitment of giving its customers full and precise information for their activities, providing shareholders with the relevant financial and corporate information, and contracting supplies in a framework of free competition.
Professionalism.
Excellence is one of the fundamental values for EMV, placing the satisfaction of customers, suppliers and employees at the centre of our professional action.
EMV's action with the general interest groups and particularly with the workers is one of honesty and professional responsibility, creating value for the environment where it operates, and for its customers.
EMV considers the capacity and contribution of each of its workers, and the values and principles that drive them.
Confidentiality.
EMV has the obligation of protecting the personal and private information of each of its interest groups, and particularly that of customers, employees, shareholders and suppliers.
The requested personal information must be adequate and pertinent for the purpose for which it is required.
All information received must be safeguarded and only used for the purpose for which it was transmitted, respecting all rights of access, rectification, cancellation and opposition and all in accordance with current regulations in this area and the internal rules on the treatment and confidentiality of personal data.
Social Responsibility.
In carrying out our activity we must consider not only the economic profit, but also the social and environmental benefit.
Through its Foundation, EMV is a partner to the World Tourism Organisation's ST-EP program, and takes on the commitment of funding projects to attenuate poverty through sustainable and responsible tourism, and promoting dialogue and interculturality.
Dialogue and interculturality
For EMV dialogue and the sociocultural authenticity of the communities in which it operates and the communities of origin of the passengers is a basic principle, and so it will very positively view all experiences, activities and projects carried out from the Europamundo foundation and Europa Mundo Vacaciones to bring dialogue, their cultures and customs and their uses to all interest groups and especially to all EMV staff, guides and collaborators in direct contact, in order to create a more tolerant, diverse and sustainable world.
OUR VALUES
We want to share the values always present in Europamundo with you:
Customer orientation. We meet the needs of internal/external customers by ensuring that their expectations are met and demonstrating passion for improving the service and commitment to continuous improvement.
Responsibility. We are the largest circuit operator in the Latin American market, which imposes great responsibility on us. The company management also has the enormous responsibility of directing its work teams, involving them in the Europamundo project and transmitting the company values.
Creativity. Europamundo has great capacity to identify, develop and apply innovative focuses for the daily situations and problems in its area of responsibility before its customers and workers.
Commitment. In Europamundo, enthusiasm is what drives us to give the best of ourselves to others, to fulfil the dreams of our workers and customers making them important figures in the business challenge of the Organisation, involving, listening, sharing, helping others, collaborating actively and acquiring the greatest possible commitment to effectively contribute to the goals and results of the Organisation.
Flexibility. We assume new processes, situations, tendencies and resources with a practical and positive sense. Our ability to adapt in different situations and with different people and cultures enriches us personally and professionally.
Listening. We must stress our willingness and capacity to receive and understand any information our customers and workers send to us. Europamundo creates "community", we love to listen. We therefore create the necessary technological tools to help us approach their needs.
OUR GOALS
The EMV philosophy, its goal, is the need to work in a team, to combine our efforts, and the importance of each individual worker, of listening to their suggestions, of receiving their ideas and discussing their points of view. There is a clear need to work with our interest groups, distributors, suppliers, travel agents and employees. It is fundamental to create bonds with the travellers in order to share their impressions, their photographs, their travel experiences through their emails, our blog and the social networks.
Success lies in the engagement of the employees to achieve the goals and carry out their work, working as a team but using their creativity and extra effort individually as a person and professional, and absorbing the company values in their daily work.